The Cove 2 at Dubai Creek Harbour is the latest luxury development by Emaar Properties offering elegant design 1 to 3 bedroom apartments and 2 to 4 bedroom townhouses along with duplexes. The luxury lifestyle at Creek Island comes with multi-storey buildings that are ready to offer its residents and guests a new waterfront lifestyle.
An exceptional living credential ensures that residents can have access to everything in the pursuit of the lifestyle that is most harmoniously aligned. The developers have put a lot of heart and soul into creating something that will last for generations by providing flawlessly drafted residences, designs that are both functional and aesthetically pleasing, and designed with excellent architecture.
With the most refined waterfront living, which provides access to a comprehensive range of amenities and services, you will be able to take complete control of your life and begin living consciously with a focus on the joys you seek.
A place where you may lose yourself and make memories that you will hold for the rest of your life, along with a multitude of high-end services and conveniences. A plethora of ultimate pleasure is brought to your feet as a result of the fact that this leading community life provides the greatest accessibility possible. Enjoy the flavours of life that are more enriching and make their way to your doorway, where they are served to you with love and care.
Experience a life that is more intuitive and intentional, where your loved ones can have a lifestyle that is elegant in every way, and care about tribute to you for the monumental decision you make to change their lives fundamentally. The architectural splendour and breathtaking vistas that may be enjoyed from the dwellings contribute to the exceptional feeling. Forget your stress and enjoy the soothing breeze of sensuous pleasure and a realm of extensive luxury that sprawls out here at Dubai Creek.
Featured Highlights
1 to 4-bedroom apartments, townhouses and duplexes
Strategically located at Dubai Creek Harbour
Breathtaking sunset views and leisure environment
Brilliant and widely recognised master community
Connected to major Dubai master places in minutes
Exceptional waterfront amenities and services
Feature & Amenities
BBQ Areas
Community Hall
Fitness Centre
Jogging Trails
Kids Park
Outdoor Dining Area
Outdoor Gymnasium
Restaurant and Cafe
Running Track
Schools and Institutes
Shopping Mall
Spa and Sauna
Sports Court
Tennis Courts
Master Plan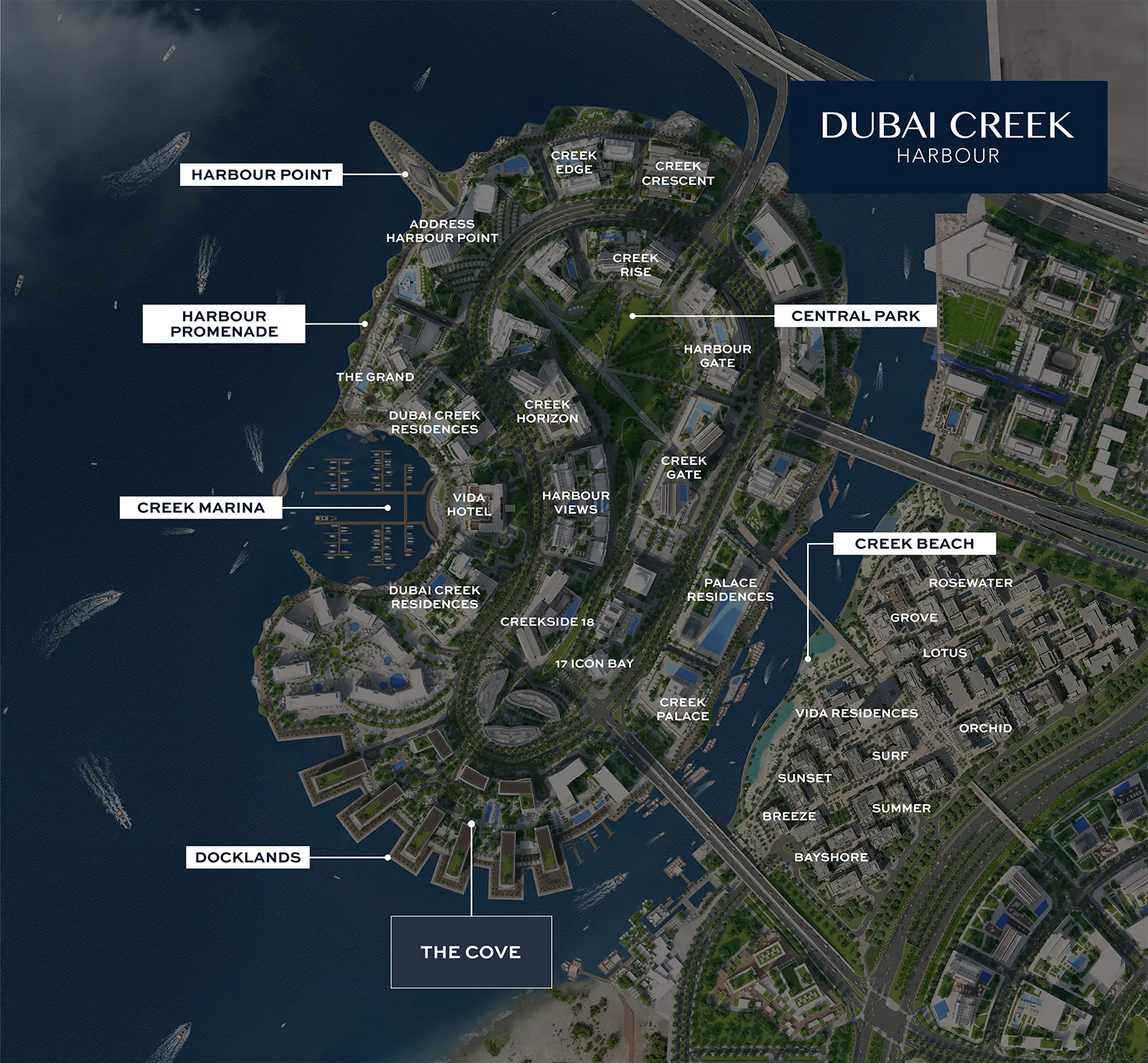 Location Map